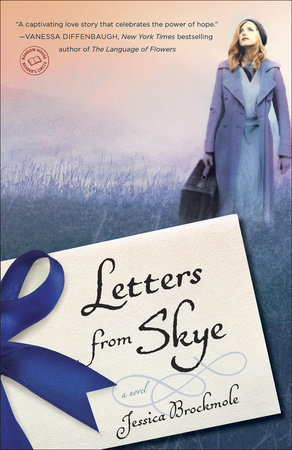 So I just got my last book from my book subscription, Letters from Skye by Jessica Brockmole. I am also still reading my third book Ron Chernow's biography of Alexander Hamilton but it turned out to be quite the tome so I am taking breaks and reading lighter things to give myself a rest. I will say this to any fan of the musical If you loved the play read the book that inspired it. It is a tome but it is definitely worth the time and effort, you will learn things not mentioned in any history class
Letters from Skye is not nearly as intimidating. It would probably take me less than an afternoon to read if I not trying to stretch it out until June. If you read The Guernsey Literary & Potato Peel Pie Society and loved it I'm almost certain you'll love this. Letters from Skye is told in letters spanning both world wars. There are letters between Elspeth and David, those are the ones leading up to and during WWI. Then there are the letters between Elspeth and her daughter Margaret during the second war. Elspeth raised Margaret by herself and absolutely refuses to talk about Margaret's father and does everything she can to dissuade her from getting romantically involved with Paul a pen friend who is part of the Royal Air Force. Can you guess how well that goes over? After an air raid demolishes a wall in Elspeth's house all the letters she has saved from David come raining down on their heads and Margaret has even more questions which her mother still refuses to answer. That's where I'm at right now.
I renewed my subscription so I'll get another installment of book mail in June. I am excited to see what comes next.